Omega among the "Watches for Romania"
Omega is a name with peculiar resonances among the wristwatches throughout the world. A brand that ignited spectacular passion through its many models that marked its special history.
Perhaps Omega watches exist in Romania for more than 100 years. Many of them dated from the early XX century can still to be founded in fairs or antiques shops, auction houses or online selling sites.
Meanwhile they are kept in collections, from the first decades of 1900s, especially pocket watches but also transitional watches transformed by the producer from the small sizes calibers (of pocket watches or the pendants for women) into wristwatches.
The first documented references regarding Omega brand in Romania appeared in "Gazeta Ceasornicarilor si Bijutierilor Romani" (The Romanian Watchmakers and Jeweler makers Magazine) commercials on its first publication in December 1922.
Finkelstein Klinger & Co. represented by Eugen Florenthal from Cluj (a respected name in the guild during those times) was: "the warehouse and general representative office of the Omega Watches Factory". The Rep Office had many commercials in the guild's magazine during those times (see copies). Most likely, Eugen F. (approx. 1900-1922) was representing Omega in Transylvania before and after the WWI.
During the Romanian Old Kingdom times, the sole representative was from 1878, D. Wormser followed by Marcel Weill, his son in law (Moise Macel Weill married Cecille Margueritte Wormser, one of his two daughters of the well famous watchmaker and jeweler on March 16th, 1900). Founded in 1872, D. Wormser had its head quarter on 25 Carol, where Bucharest orology guild regrouped (on the right, a photocopy of the Official Registration Office document – Aug. 1884 – Ilfov Court House). Regarding company's activity, mentioning the year of the first representation of Omega, there is an explicit note in Frederic Dame's book – "Bucharest at 1906", published by Socec Printing House in 1907.

The last stage regarding Omega presentation in Romania is represented by the takeover in January 1929 of the representative office for Ardeal and Banat by Moisi A Mendel and Sons from Craiova, a company that in 1929 celebrated 90 years of activity (1839 – perhaps one of the oldest Romanian company involved in trading watches). The Guild's magazine – Orologiul/The Orology – which carried on the activity started by "Gazeta Ceasornicarilor" will present in many more introductory articles, both the Omega Factory as well as some of its many products.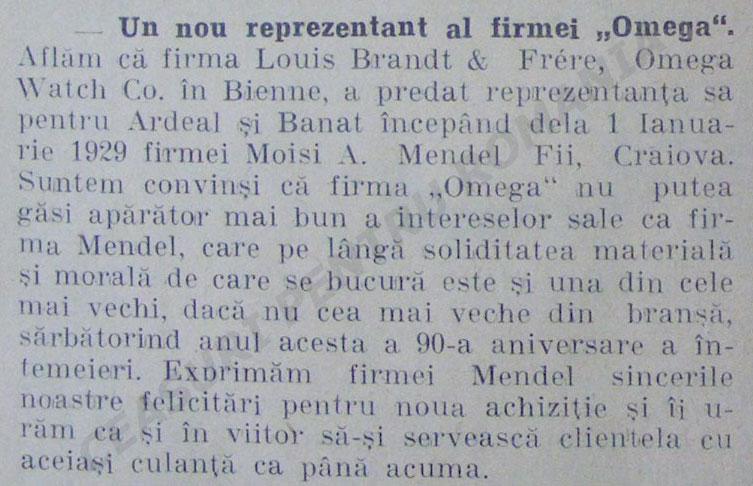 Orologiul | 15.ianuarie.1929
It's worth mentioning that alongside the activity carried out by en-gross salesmen via Eugen Florenthal, D. Wormser, succeeded by Marcel Weil or Mendel family, towards Omega pocket watches popularity, many retailers, such as watchmakers and/or quilt shop owners from many Romanian cities, had an important contribution. Many copies with the names marked on its dial are kept today among collections (watches known among collectors as "private labels") – Lazar Arginar / A.M. Braunfeld | Tecuciu, S. Wolf, F. Jensen or Nathan Tetelzweig | Bucarest but also "Ceasornicaria Coltei", the well-known shop owned by Iacobson-Coltei (details here).
Certainly there are many other private label copies which I hope that in the near future I will be able to present on Ceasuri pentru Romania.
Although both Marcel Weill as well as Moisi A ans Sons made great efforts to introduce and impose "the little wristwatches" during 30's, the pocket watches had the most important share of Omega watches in the Interwar Romania.
So the most well-known Omega pocket clocks "Romanian orders" are the two models purchased by The Romanian Railway Company (Omega C.F.R. | Romanian Rail Company) and The Bucharest City Tram Company (Omega S.T.B. | S.T.B. = Bucharest Tram Company).

Next to Omega watch "Private label" and "Orders Romania" a special piece is the homage pocket watch – "Gloria Romaniei (Romania's Glory) / Omega Patent" dated somewhere between 1907-1910 - according to the serial no's written on the mechanism and case – production & delivery.
Omega watches were also included on cars instrument panel during those times – an Omega 8 days imprinted "Leonida & Co / Bucarest" (a famous Bucharest car dealer) was already presented on "Ceasuri pentru Romania" site – click here for details.
In terms of spare parts and repair supplies, D. Wormser – Marcel Weill successor provided the watchmakers and shops, stocks and detailed annual catalogs – see below an example from 1926. We owe to Marcel Weill and Sylvian Weill, who carried on his activity after 1939, the documents that show us their intensions to supply watches to Romanian military pilots (January 1940), however Longines and Universal Geneve were preferred.
The guild's romantic period and also Omega's official representation in Romania in the XXth century will end suddenly after 1945.
Solvan Vitianu (Witzmann), a Comintern under diplomatic cover, is arrested in 1948, an action which will lead to degradation of Romanian – Swiss relationships for many years, relationships which had a 100 years exemplary tradition.
As retaliation to the agent Vitianu's arrest, many members of the Swiss community were arrested in Romania during 1948 – 1949, many of them were accused of currency trafficking (details of the case here). Among the 10 convicted was also Sylvain Weill, "jeweler and Omega representative from Bienne and "Jean Vautier" company, convicted for 2 years in prison and 3.5 mil. Lei penalty (see Claudia Chinezu – "Swiss in Romania", Noi Media Printing House, 2011 – 107 page). Sylvain Weill was released on 26th of May 1950 and then expulsed in Switzerland, most probably.
Thus ends, completely unfortunate, the Omega representation story in Romania (XIX-XXth century), a history that developed over 3 generations (1878-1948): D. Wormser - Marcel Weill - Sylvain Weill.

[up-date: January, 2013]
Brasov - May, 2012