Aviation wristwatches | 1936-1937
As I already specified in the article about the Longines Pilot | M.A.M. 1937 watch, among the ones who made offers from 1936-1937 were also Zenith and Heuer. There were also several other Longines models presented to the Marine and Air Ministry (M.A.M.), extremely interesting models among which Longines Lindbergh can be distinguished in a document dated November.1931, probably one of the first variants of presentation as long as the Lindbergh model was made and launched in the interval March-August 1931 (ref. Chronos-Special "Longines" | "Contemporary History of Air Travel", pag. 8, 1996).

For the beginning here there is the presentation of the Zenith offer with whom M.A.M has directly corresponded and received an answer at the date of 30.January.1936 (scanned offer attached [1]-[2]) and who offered a "Zenith 204, 12 lignes, 15 rubis, echappement ancre, anti-magnetique", model, being also accompanied by two pictures.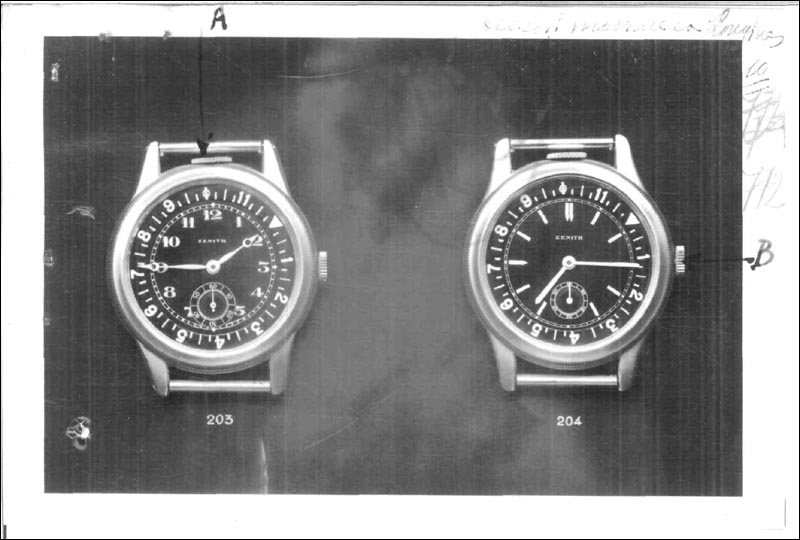 photo: 1936 – Zenith 204 model

Also the cheapest offer, of 34.25 Swiss francs, without chronograph functionality and with crown placed at 12:00, the proposal did not received any interest from the M.A.M. officers.

Another offer (attached scans [3]-[5]) for this bidding came from Heuer in December 1936 through the representative of this company in Romania at that time – Josef Schneider localized in Bucuresti, Impacarei Street, no.11. All the models from the offer can be found in its annexes, below illustrated:
scan: 1936 – Heuer models | 351, 358, 2403

I end this presentation with several images (below) and offers [6]-[12] of other Longines watch models that were in the analysis of the State Sub-secretary of the Air (S.S.A) during 1936-1937. Extraordinary watches are presented from that period, wristwatches but also aircraft clocks (to these ones I will come back in a separate article) but also Longines Lindbergh with a description that also included a usage manual, a watch that in the next 70 ani will make history.
photo: 1936 – Longines models | 2094, 3275, 3212, 3736, 3737, 3592, 2106, 3210, 3772, 3776, 3772A, 3767, 3747
scan: usage description for Longines Lindbergh, November.1931